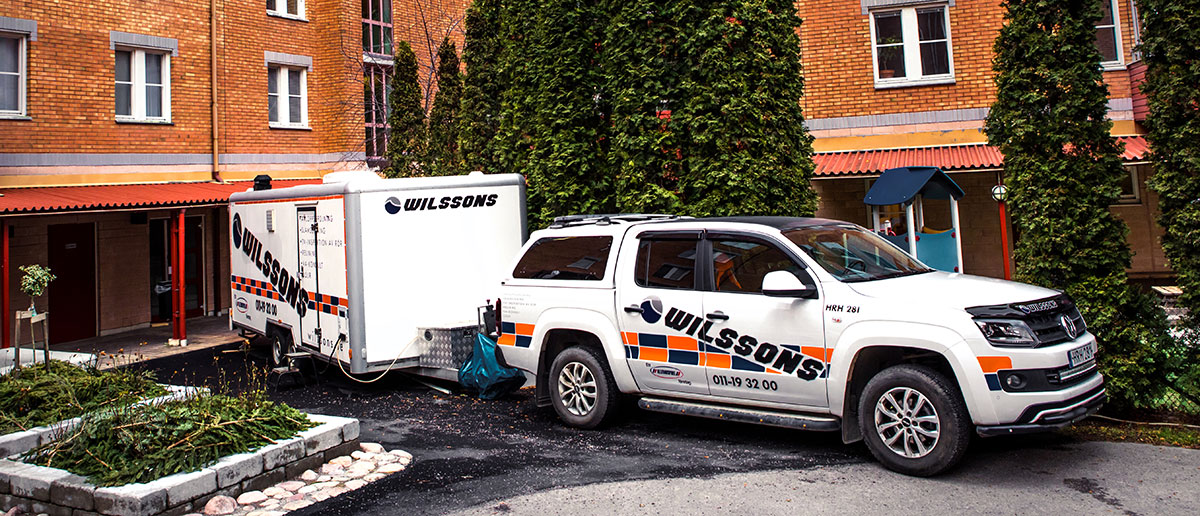 Wilssons Åkeri AB works in the fields of high pressure flushing, drain flushing, emptying, suction, cleaning, decontamination, maintenance, haulage and TV inspections of pipelines.
Wilssons also offers relining services.
Relining is an alternative to pipe replacement, in which the inside of the pipes is relined with various materials.
At Wilssons, we use flexible lining (the stocking method) and polyester (the spray method). Each property is unique, so we and the customer together choose the most suitable method. On some projects, it can be useful to combine the two methods, depending on the prevailing circumstances. Pipe lining has an expected service life of at least 50 years, is cheaper than traditional pipe replacement and is significantly quicker.
Piping in properties
Many assignments involve piping in properties or the ground network: cleaning, flushing, TV recording and maintenance. Other assignments involve various tanks or vessels: emptying, cleaning and maintaining septic tanks, grease traps, oil tanks, sludge separators, etc.
Pipe inspections
Wilssons Åkeri is a member of STVF, the association of Swedish CCTV inspection companies, and the operators are authorised pipe inspectors. The company has self-propelled colour cameras equipped with rotatable lenses and satellite equipment that is able to undock from the main pipe and film in the service pipes (the pipes leading out from the main pipe). Five of the company's units are equipped to perform an assessment of the standard of the piping system using filming.
Hazardous waste
The company has extensive experience of, and a permit for, the handling and shipment of waste and hazardous waste. The company also has trained staff and a permit for ADR haulage work.
The main office is in Norrköping, with a branch in Linköping.